Puerto Vallarta & Nuevo Vallarta
Your All-Inclusive Gopure Vacation Includes: Round-trip Airfare (direct*), Hotel Accommodations, Round-trip Airport Transfers, and the services of an in-resort Apple Representative**. 
Puerto Vallarta is a resort town on Mexico's Pacific coast, in Jalisco state. It is known for its beaches, water sports and nightlife scene. Its cobblestone center is home to the ornate Nuestra Señora de Guadalupe church, boutique shops and a range of restaurants and bars. El Malecón is a beachside promenade with contemporary sculptures, as well as bars, lounges, and nightclubs.
Experience the best of Puerto Vallarta by booking tours in advance.
(Recommended tours listed at bottom of page)
See All  |   Cruise Tours   |   Water Sports |     Day Trips |   Food & Wine  |  Outdoor Adventures
Puerto Vallarta, Mexico 2017
TRAVEL GUIDE | Top 10 Things to do in Puerto Vallarta
Puerto Vallarta & Nuevo Vallarta
5 & 6 Day Vacations
* all prices are subject to change - higher prices during holidays, spring break, and months of December through May. Direct flights are subject to availability.
** Amstar Reps wearing blue tropical uniform shirts and holding Apple Vacations sign greet you outside of Customs but inside terminal.
Why Puerto Vallarta
This destination is a treat for all five senses. Set on a backdrop of the Sierra Madre Mountains, you will have our pick of exhilarating excursions, delightful local cuisine, and a vibrant nightlife filled with live music and even livelier dancing. Plus, a postcard-worthy stretch of beach created for ultimate relaxation. It's the idyllic vacation spot for couples, families, and everyone in between.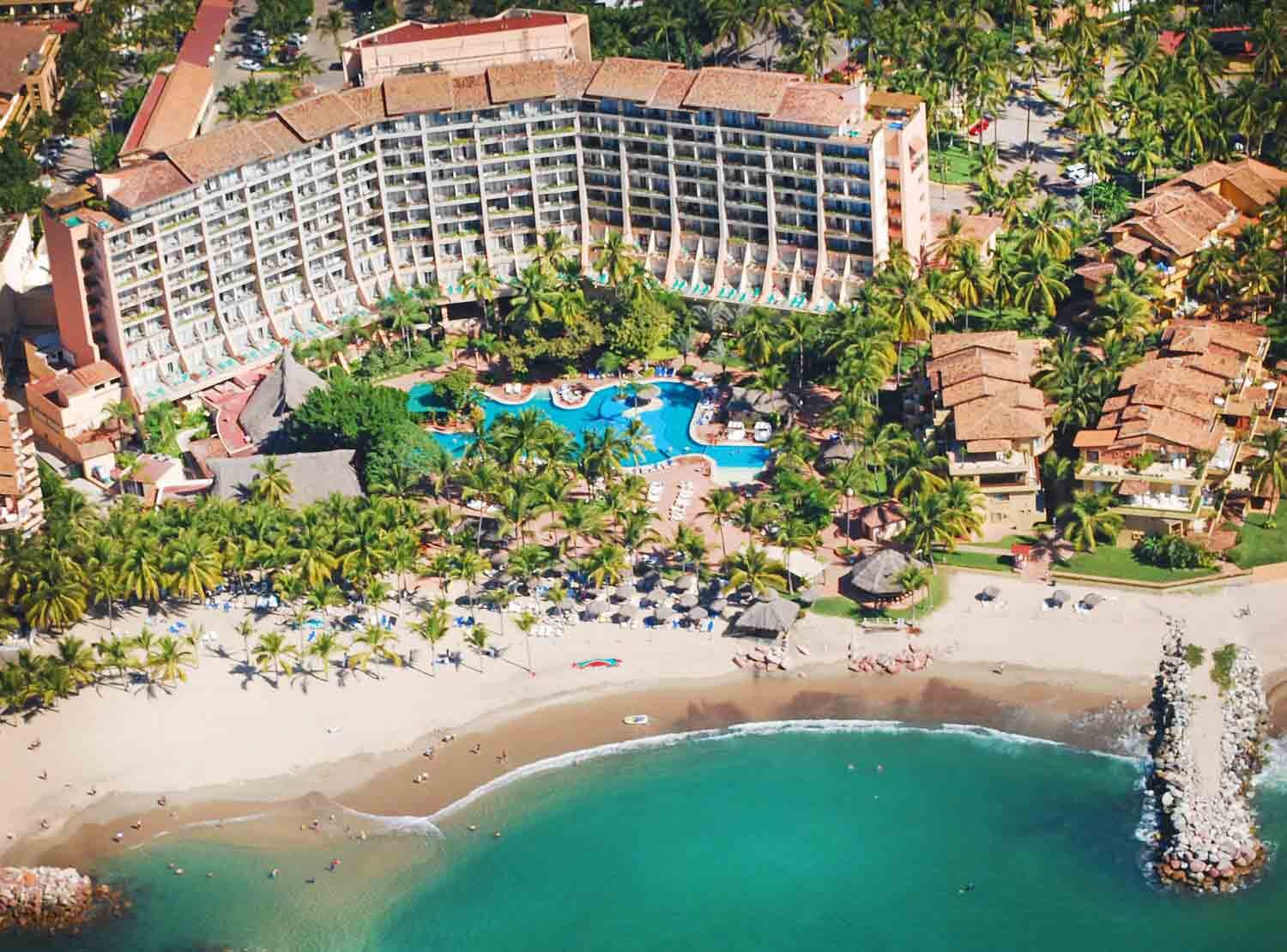 Now Amber Puerto Vallarta
Map  (Beach/Golf) - This all-inclusive, all-suite resort with a private beach is 2.6 km from Puerto Vallarta and 7 km from Costalegre's secluded beaches.
Upscale suites feature marble floors, and balconies or terraces with water, garden, or pool views. They include free Wi-Fi, satellite TV, iPod docks and DVD players, plus minibars, coffeemakers and bathrooms with Jacuzzi tubs. Upgraded suites have separate living areas. Some quarters offer access to a private lounge with free breakfast, snacks and drinks.
Unlimited Luxury all-inclusive program provides guests with unlimited dining, including 24-hour room service and top-shelf spirits, resort activities, entertainment.
There are 4 restaurants and 5 bars, plus an outdoor pool, a fitness room and a spa. There's a kids' club and live entertainment
2018 Now Amber - Exceptional Values
Extra Value: Unlimited Connectivity: Free calling to US and Canada; Free WiFi throughout the resort and more.
Exclusive: Free non-stop air/hotel transfers.
Golf: One complimentary round of golf per person, per day.*
Dining: Enjoy eight reservation-free gourmet restaurants and four lively bars and lounges. As part of the privileges of Unlimited-Luxury®, guests of Now Amber Puerto Vallarta have the chance to Sip, Savor & See at Dreams Villamagna, as well as adult guests at Secrets Vallarta Bay. Enjoy dinner and live entertainment at neighboring resorts from 6p to 1a (transportation not included).
List of sister properties:
Enjoy dinner, cocktails and live entertainment at one of our neighboring resorts during your stay. Choose from:
Secrets Vallarta Bay Puerto Vallarta (Adults-Only)
Dreams Villamagna Nuevo Vallarta
Sunscape Puerto Vallarta Resort & Spa
Velas Vallarta
Map - On 4 beachfront hectares bordering Bahía de Banderas bay, this refined, all-inclusive resort is a 10-minute walk from Marina Vallarta Club de Golf, as well as the restaurants at Marina Vallarta. And 2.3 km from Aeropuerto Internacional Licenciado Gustavo Díaz Ordaz.
Upmarket rooms and suites feature kitchens or kitchenettes. They come with Wi-Fi access, free minibars and flat-screen TVs. Upgraded quarters add bay views, balconies and/or private pools. Room service is available 24 hours.
Meals and parking are included. There are 3 restaurants and 2 bars. Other amenities include 3 outdoor pools, a spa and a fitness room, plus tennis courts and a kids' club.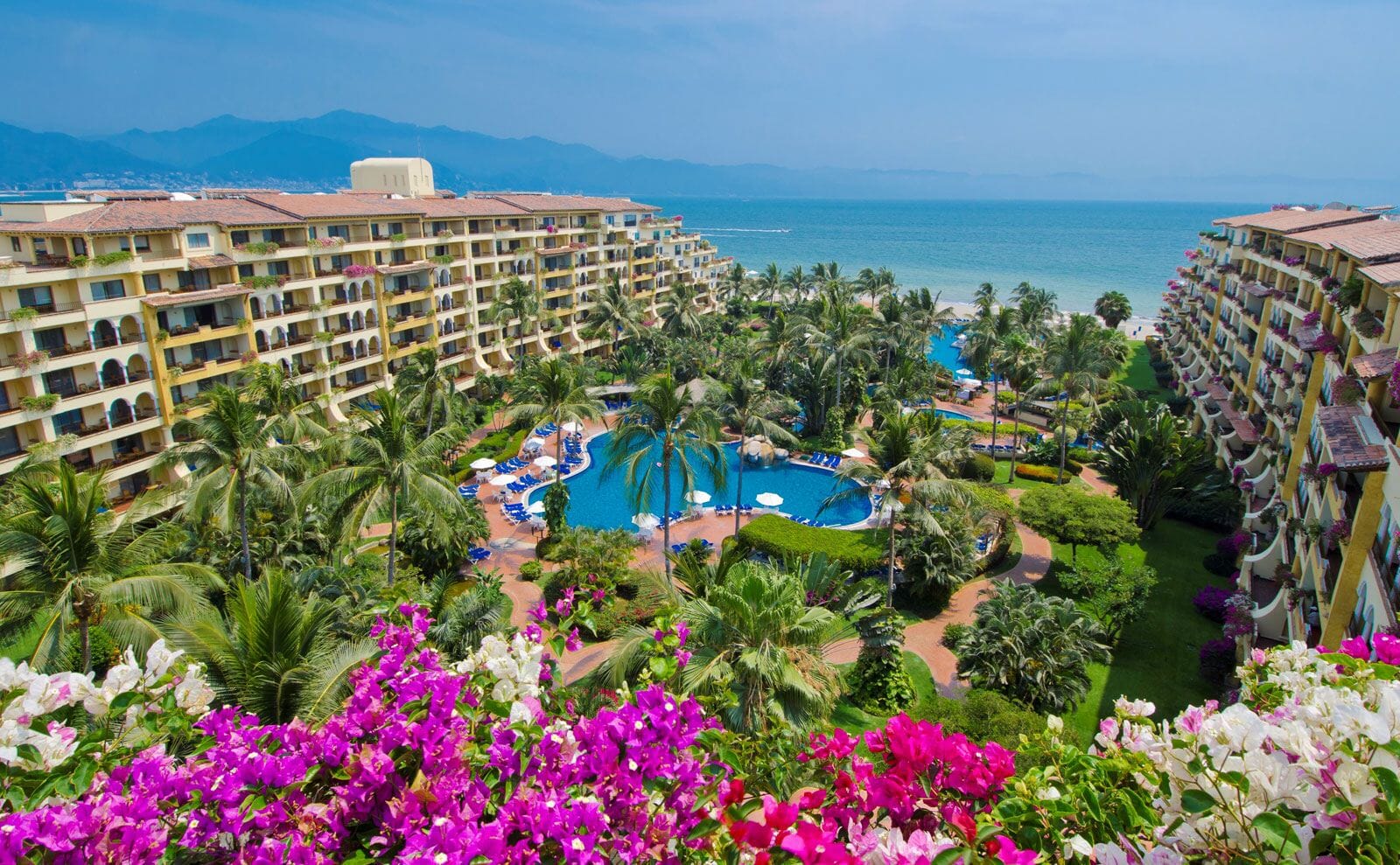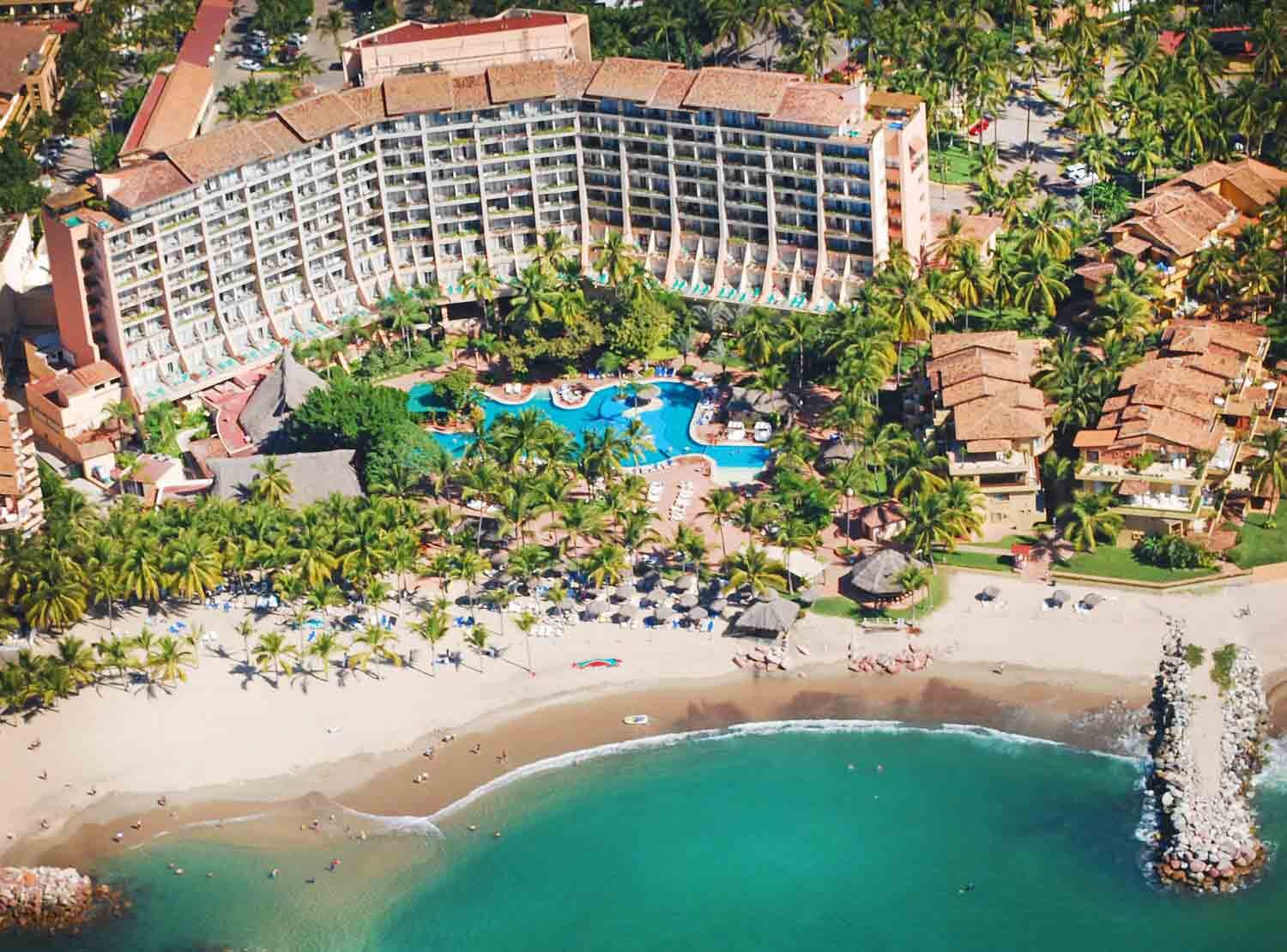 Fiesta Americana Puerto Vallarta All Inclusive & Spa
Map - The charm and the warmth of this destination make Fiesta Americana Puerto Vallarta All Inclusive one of the most attractive hotels in Bahía de Banderas.
The beautiful contemporary Mexican architecture blends the traditional Mexican styles of Jalisco state with the vibrant culture of Puerto Vallarta. The buildings harmonize perfectly with the landscape surrounding the Western Sierra Madre Mountains, and the most beautiful beach in Vallarta. Relax in the shade of the largest thatched-palm ''palapa'' roof in the region, admire the beautiful waterfall, and rest in comfortable rooms, functional suites, in an environment that favors relaxation.
Why Riviera Nayarit
There are endless ways for you to fill your days and nights in this gorgeous destination. You'll have your pick between I'm-definitely-in-paradise spas, world-renowned golf courses, unique whale watching trips, and over 190 miles of coastline and jungle filled with adventures. Add delicious Mexican flavors to every meal, and you have an all-inclusive that really does have it all.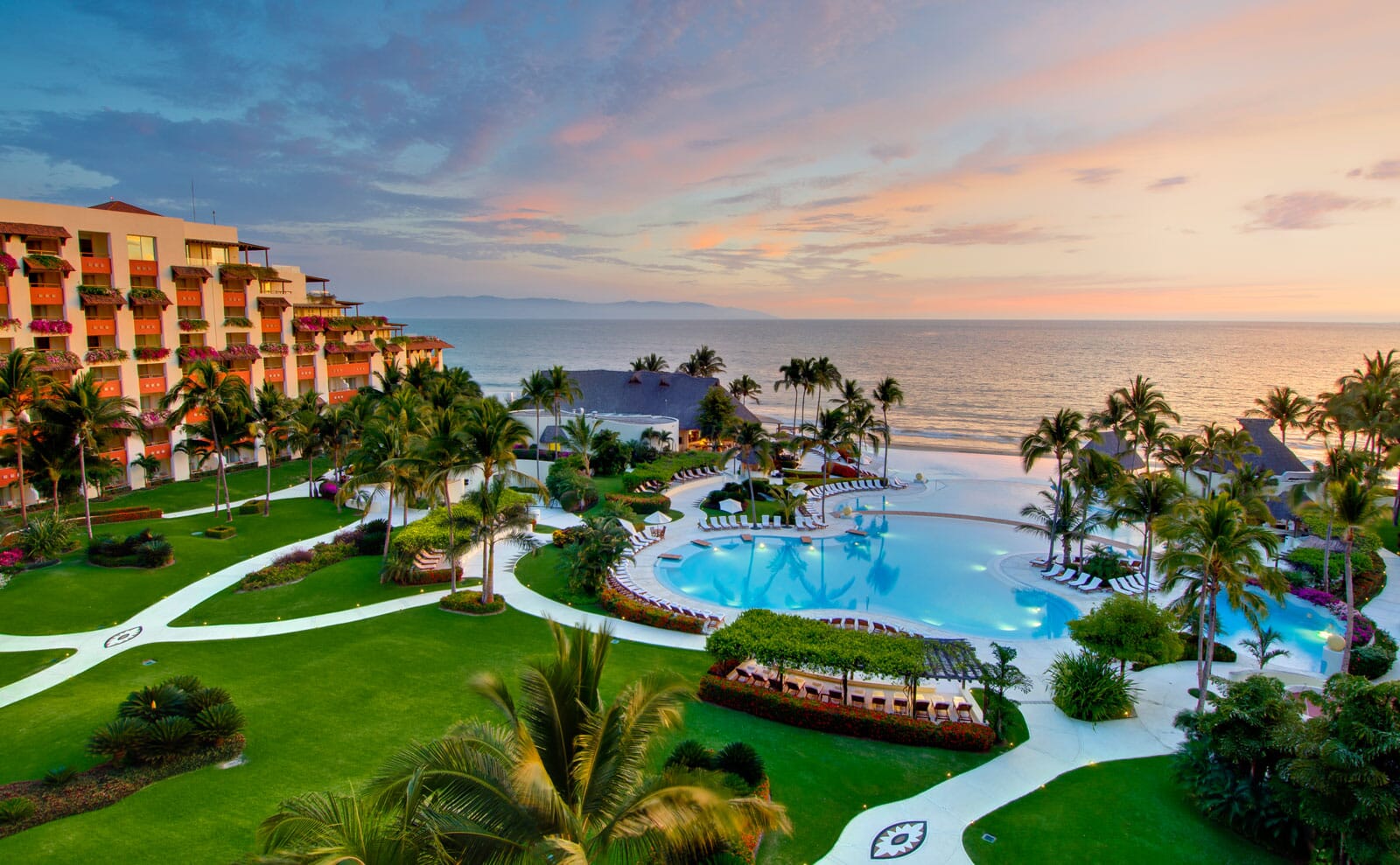 Grand Velas Riviera Nayarit
Map - (Luxury/Beach) Set on Nuevo Vallarta Beach along Banderas Bay, this luxe all-inclusive resort is 12 km from Licenciado Gustavo Diaz Ordaz International Airport and 13 km from Marina Vallarta.
Refined 1- and 2-bedroom suites with balconies and living areas feature flat-screens and free Wi-Fi, plus minibars and Nespresso machines; many have whirlpool tubs. Upgraded suites add hot tubs, bay views and/or personal trainers. Room service is available 24/7.
All meals are included and served in Italian, French and Mexican restaurants. There's also a posh spa with a gym, and an outdoor pool with a swim-up bar, as well as activity programs for kids and teens.
Hard Rock Hotel Vallarta (Recommended)
Map - (Luxury/Beach) Overlooking the Bay of Banderas, this upscale, all-inclusive hotel is 2 km from El Tigre Golf Club and 13 km from Licenciado Gustavo Díaz Ordaz International Airport.
A mix of contemporary and colonial style, the colorful rooms come with free Wi-Fi, flat-screen TVs, minibars, and whirlpool tubs, as well as coffeemakers, safes and balconies. Suites add living rooms, and most rooms and suites have views of the bay. Room service is available.
Amenities include 6 restaurants, 4 bars, a fitness center, 2 outdoor pools, plus a full-service spa and a kids' club.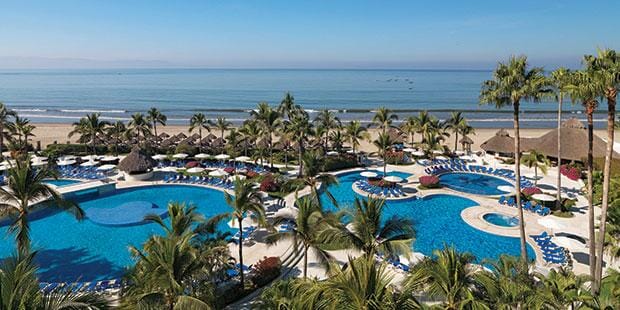 Hotel Riu Palace Pacifico
Map - (Beach) In a stately white building, this elegant, vibrant all-inclusive hotel is set on the beach. It's 3.4 km from Flamingos Golf Club and 6 km from Aquaventuras Park. 
The understated rooms (no air-conditioning) come with free Wi-Fi and flat-screen TVs, plus coffeemakers and whirlpool tubs. Most offer balconies (some with whirlpool tubs). Room service is available.
The hotel has 6 restaurants that include international choices, a refined option and 1 with a terrace, while 4 bars include a sports bar and 1 next to an outdoor pool. There are other outdoor pools, as well as a fitness room, kids' activities and a disco. Parking is free.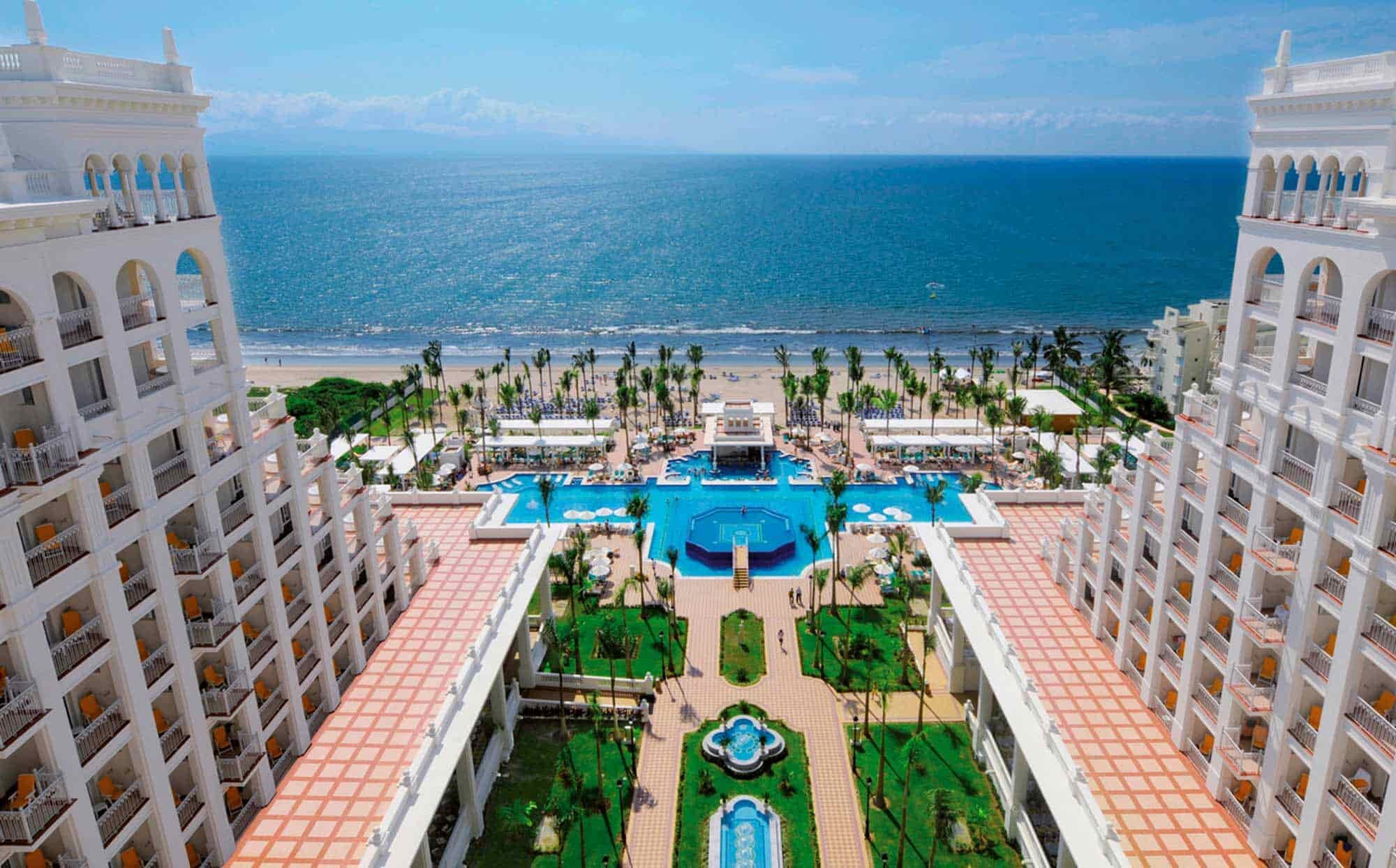 On this tour you will visit the Vallarta highlights which include a walk around downtown and the Malecon, Los Arcos, Mismaloya Beach and a visit to the tequila distillery.
You'll see a series of sculptures with an ocean backdrop, and stroll to The Church of Our Lady of Guadalupe, whose towering spire dominates the heart of the city. From there, head into the jungle to see Los Arcos and Mismaloya Beach, a cove with white sand and beautifully clear water.  Afterwards, visit a local tequila distillery for an introduction to the tequila-making process and a tasting of the distillery's own tequila.
Enjoy a fun-filled private boat tour around Puerto Vallarta with a fully bilingual captain. Admire the scenic views as you travel south and take amazing pictures. Have fun snorkeling at Los Arcos and relaxing at Las Animas beach and enjoy complimentary drinks and music onboard. This private tour is just for you and your group so you have the best of times with family or friends.
You will also stop at Los Arcos National Marine Park for a fun time snorkeling among colorful fish and marine life. Then, you'll head to Las Animas beach where you can enjoy lunch (not included) and can relax on the beach or do some optional activities. You'll then seat back comfortably aboard the boat and head to the marina where the tour ends.
Next Steps...
Puerto Vallarta is a resort town on Mexico's Pacific coast, in Jalisco state. It is known for its beaches, water sports and nightlife scene. El Malecón is a beachside promenade with contemporary sculptures, as well as bars, lounges, and nightclubs.