Romantic Stay on Mackinac Island
Enjoy beautiful vistas, shopping, and carriage rides during the day, and watch the city transform at night. When you step off the Island Ferry Dock, you will be in a living Victorian village. Limited to the transportation of horse and buggy, bicycle or foot, surrounded by water, it has escaped the vast changes of time.
Explore the historic Fort Mackinac, enjoy the hustle and bustle of downtown, try the different varieties of homemade fudge or relax at the Grand Hotel, famous for the movie "Somewhere in Time." Once you've visited our beautiful island, you will find that is is your island, too.
2020 Mackinac Island Tour Details
MACKINAC ISLAND & THE GREAT LAKES
8 Day Tour from Detroit to Chicago
Starting at $2,619 Person
Charming and historic hotels, beautiful Lake Michigan, fun experiences, and beautiful scenery…all of this and more await you on this Mackinac Island & the Great Lakes Tour.
A highlight of this tour is the time you'll spend on Mackinac Island, one of the country's favorite summer retreats. Here, bicycles and horse-drawn carriages are the only means of transportation. Enjoy a horse-drawn carriage tour of Mackinac Island and have lunch at the elegant Grand Hotel, with its Victorian-style architecture. Witness amazing views as you sit in a rocking chair on the world's longest porch. Behold more amazing views on your drive in northern Michigan's famed Tunnel of Trees, a narrow, winding highway with rolling hills following the shores of Lake Michigan.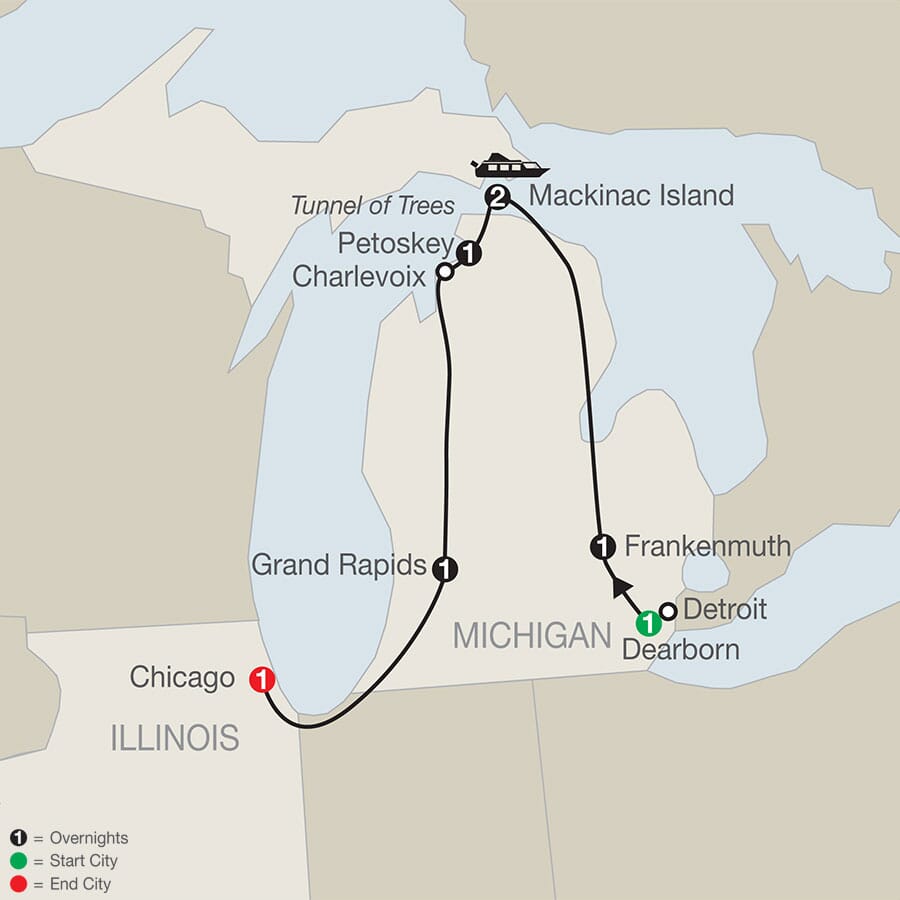 Outside of Detroit, visit the Henry Ford Museum, with innovations and artifacts from America's past, including the Rosa Parks Bus, the world's premier automotive collection, the JFK Presidential limousine, and much more. In Grand Rapids, visit the Gerald Ford Presidential Library & Museum to learn about the lives of President and Mrs. Ford. To make this tour unique, Globus also has included some out-of-the-ordinary experiences. Enjoy a Bavarian dinner and wine tasting in Frankenmuth, a small Bavarian town founded in 1845. Near Petoskey, visit an orchard for a wagon ride and cherry pie. In Chicago, a private presentation at the historic and elegant Palmer House Hilton—where you'll stay for the night—lets you learn about the hotel's history and how one of America's favorite desserts was created here.
From the vibrant cities and small towns to the scenic beauty and fun-filled experiences, this Mackinac Island & the Great Lakes tour is a charming vacation!
The Famous Grand Hotel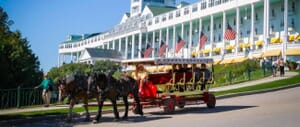 Ignite your passion for life. This resort is romantic, magical, timeless and unforgettable. With multiple packages, it's possible to create a dream vacation that will eternally linger in your thoughts. Grand Hotel was voted by Travel+Leisure Family magazine's best resorts for families and kids.
Experience the tradition of Grand Hotel, located on northern Michigan's Mackinac Island. You will never forget the spectacular views from a rocking chair overlooking the Straits of Mackinac from the world's longest porch. Third-generation, family-owned by the Musser family, Grand Hotel is rich in history, a place where time moves at the pace of horse-drawn carriages and bicycles.
Here, meals are an event and traditions such as Afternoon Tea in the Parlor and nightly dancing remain a noteworthy part of the guest experience. Take a step away from it all and unwind in the warm hospitality that has been charming guests since 1887.
Grand Hotel offers exceptional accommodations, with each guest room uniquely decorated by interior designer Carleton Varney of Dorothy Draper & Co. in New York City. Grand Hotel is recognized as Travel + Leisure's 500 World's Best Hotels and the Best Hotel in Michigan, and Condé Nast Traveler's Top 5 Midwest Resorts.
Mission Point Resort
Mission Point, an award-winning lakefront resort, is a 10-minute walk from the Star Line Ferry dock. This sprawling, family-friendly establishment gives island visitors a choice of resort. But it provides a vastly different experience in terms of service and amenities compared to Grand Hotel.
While Mission Point has some history in its own right—it utilizes buildings that once held an 1820s Indian school and a 1950s Moral Re-Armament Conference Center—its resort-level amenities are not automatically part of guest packages. Take care: Fees added to the bill along the way can make a stay a lot more expensive than anticipated. Ask what they are before you book.
Hotel Iroquois
Named Condé Nast Traveler's "Best Small Hotel in the World" for three consecutive years, the Hotel Iroquois on Michigan's breathtaking Mackinac Island is a treasured family getaway. A seasonal stunner, this classically sophisticated and intimate hotel captivates first-time visitors and longtime guests with its singular combination of beautifully decorated guest rooms and suites, fine dining and unparalleled waterfront location.
Located at the end of Main Street, Hotel Iroquois owes its architectural elegance to the design sensibilities of a turn-of-the-century blacksmith who built the stately Victorian-style showplace directly on the storied Straits of Mackinac. An inn since 1904, the McIntire family purchased it in 1954 and has elevated hospitality to an art form in the sixty years since. Today, the Iroquois experience begins the moment you step off the ferry and a friendly porter collects your bags. From horse-drawn carriage rides and bicycling to mornings that begin with the hotel's signature lemon blueberry muffins, a more serene and picturesque setting is difficult to imagine.
Things to Do on Mackinac Island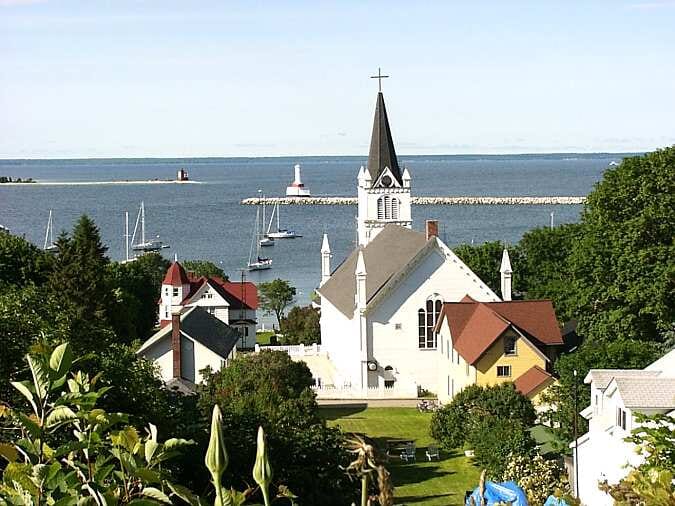 St Anne's Catholic Church
Sainte Anne Church, commonly called 'Ste. Anne Church' or 'Ste. Anne's Church', is a Roman Catholic church that serves the parish of Sainte Anne de Michilimackinac in Mackinac Island, Michigan.
TIs it you spot from Somewhere in Time movie!
The first meeting for the couple Elise McKenna (Jane Seymour) and Richard Collier (Christopher Reeve). Represented on a memorialized plaque placed large stone near the waters edge. You feel as though you travel back in time with the actors in the place of there first meeting.
The Original Mackinac Island Butterfly House & Insect World
he Original Mackinac Island Butterfly House is the 1st of its kind in Michigan, and the 3rd oldest LIVE butterfly exhibit in the United States. The world-renowned facility has 1800 sq ft of tropical garden filled with hundreds of live butterflies from four continents.
Insect World was a part of the building that we renovated in 2006 and turned into an attraction, as an addition to the butterfly exhibit.  And with 16″ walking sticks, the world's heaviest bug, too many species of beetles to name here, and walls of insect displays from around the world, educational information and live insects – the newest part of the attraction have been a huge success.  You'll want to plan on taking some time to learn about the benefits of insects to the planet we live on!
Click for Map and Directions
​Call

(989) 572-0523

 - and book your vacation now !
"This was a wonderful experience. This was our first drive yourself carriage ride. The trip was well mapped out for us. The employees were very helpful explaining everything that we needed to know and expect from our trip. The marked route was very relaxing and Mabel followed our instructions, making our experience one that we'll remember. We especially enjoyed our private ride unlike other companies who charge a lot more, having to share the carriage with others while the driver points out something of interest and you're unable to have time to take a photo. We liked having control of our trip, gauging the amount of time we wanted to spend viewing and taking photos of points of interest that were important to us. Next time we visit the island we will definitely repeat this activity.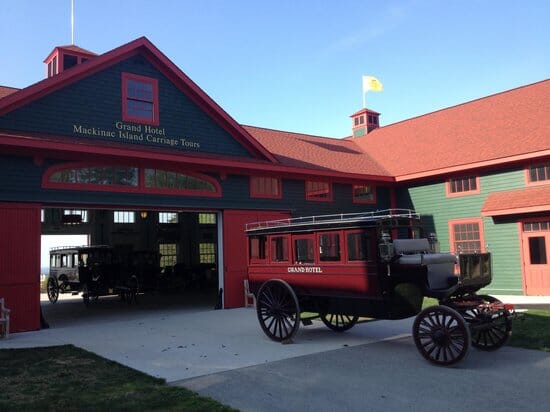 Explore museums and shopping boutiques, share in the local customs, sample rare delicacies and bond with exotic wildlife.
Venture out into Greater Detroit, where a whole world of discovery is Pure Michigan.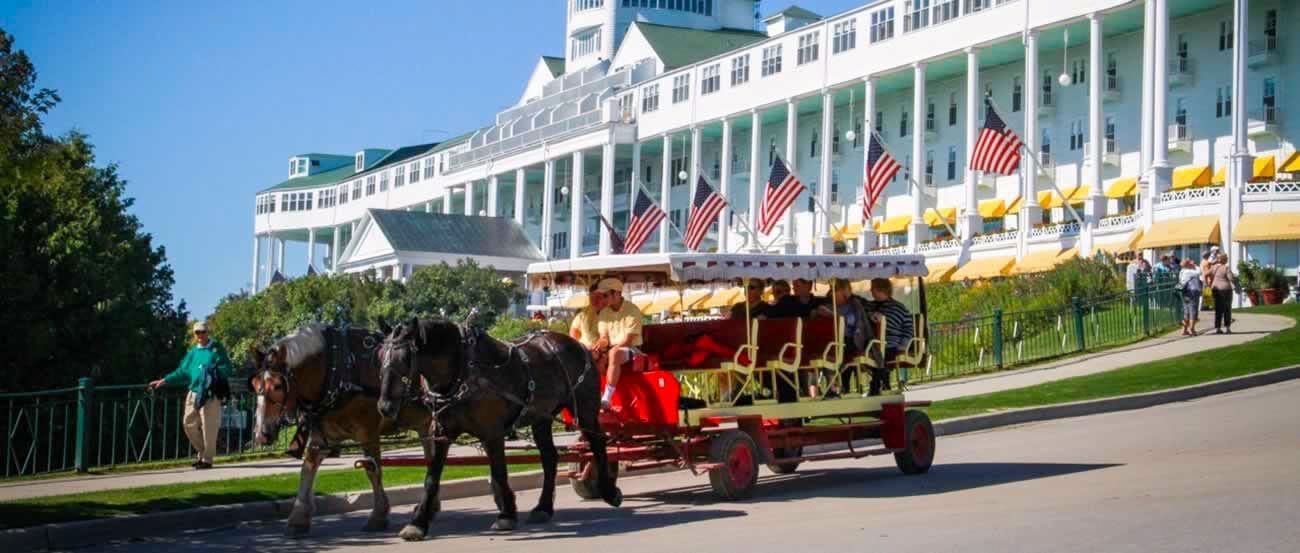 Mackinac Island
Leave the ordinary at home this summer and set sail for picturesque Mackinac Island. A place filled with forts and uncharted paths. Horse rides, bike rides and games we play all day.
Come immerse yourself in the majesty and sanctuary of Mackinac Island.
Traverse City is true North! Explore the incredible scenery at the Sleeping Bear Dunes National Lakeshore. Bike, paddle or hike your way to see the beautiful cherry blossoms. Take a wine or beer tour and be sure to save time for unique dining and shopping found throughout the region.
Come Vacation on Mackinac Island!
Next Steps...
The jewel of the Great Lakes. Enjoy beautiful vistas, shopping, and carriage rides during the day, and watch the city transform at night with its happening music and bar scene. Mackinac Island has something for everyone.